Room Additions in Springfield, Mansfield & nearby Ohio
Transform your home with expert addition services in Greater Columbus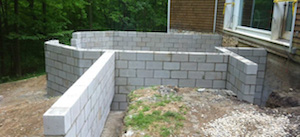 Plan out your room addition to achieve maximum use.
With the real estate market in its current condition, many homeowners are turning to room additions to increase their living space instead of selling their homes and moving to another house. Building an addition also increases home value, which can be crucial when you eventually do decide to sell.
Ohio Basement Authority holds a General Contractors license and is able to provide room addition services from start to finish. We will work with you to create the ideal design for your home and provide you with a quality construction that gives you the home of your dreams.
If you want to expand your home, call us today at 1-866-654-8040 or click below to get started. We offer free estimates on all our work in Springfield, Columbus, Mansfield and throughout the nearby areas.
Create the space you need with our room addition services
No matter what you need from your home, our home additions services can be the solution. Many homeowners want to add one or two rooms to their home or expand areas like the living room or kitchen. Expanding the main floor of your home is a great way to do this, and we ensure that you have a seamless transition between old and new.
Room additions for other contractors
Ohio Basement Authority can also provide a room addition package to other general contractors. This package includes: excavation, utilities (sewer and water), footer, foundation, flatwork, waterproofing, dampproofing, conductor lines, backfill, and site re-grade.
Turn your house into your dream home with a new addition
Don't let a lack of space make your home uncomfortable. The experts at Ohio Basement Authority can provide you with a beautiful new addition that will give you the space you need and the function you want from your home.
If a room addition sounds like the right solution for your needs, call us today to get a free estimate. We provide all our quality additional services in Columbus, Springfield, Mansfield, Newark, Westerville, Zanesville, Lancaster, Marion, Dublin, Chillicothe and throughout the surrounding areas.
Looking for a price? Get a no cost, no obligation free estimate.