Egress Window Repair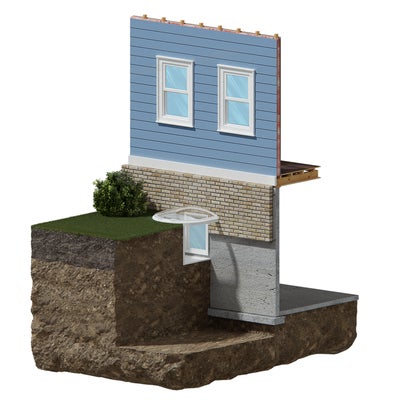 A basement offers the perfect opportunity for extra living space, but this area must be safe. Basement windows often leak or may not be up to code, but these common issues can be resolved.
Ohio Basement Authority's high-quality egress window systems make your basement code-compliant, provide a reliable emergency exit, and let in natural light.
As the authority on basement waterproofing solutions in Central and Southern Ohio, we know how to properly install egress windows so you can enjoy a brighter, safer basement while safeguarding your home and family.
This page offers valuable insights into why egress windows are necessary and beneficial and how Ohio Basement Authority can help.
What is an Egress Window System?
An egress window system is a type of window specifically designed to serve as an emergency exit for below-grade spaces like basements.
According to International Residential Building Codes, any livable basement space must have an emergency egress window that meets certain specifications, including:
Minimum net clearance of 5.7 square feet
Minimum net clearance opening height should be 24 inches
Minimum net clearance width should be 20 inches
The maximum bottom height of the floor opening should be 44 inches
Window wells must have a permanently affixed ladder or steps.
Egress windows also provide the added benefit of allowing natural light to enter your basement, improving its overall quality. Importantly, a well-installed egress window contributes to basement waterproofing, making it an integral part of a whole-home solution for maintaining a healthy, safe living environment.
Signs Your Basement Needs an Egress Window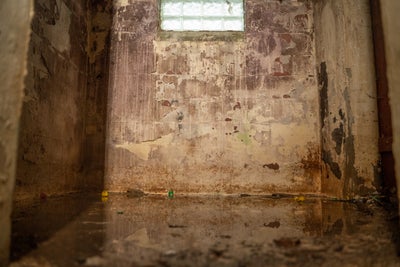 Your basement may need an egress window if:
You're finishing your basement or converting it into a living space
Your existing basement windows are not up to code
Window wells fill with water or debris
There's inadequate natural light in your basement
You're concerned about the safety aspects of your current basement windows
Any of these issues is cause for concern. Contact Ohio Basement Authority for a free inspection and estimate when you notice a problem.
Is an Egress Window Necessary?
Yes, an egress window is not just a building requirement; it's a necessity that ensures the safety of your family and home.
Delaying installation escalates risks and costs. With an egress window system in your finished basement, you will pass inspection and be safe in case of fire or other emergency
We recommend installing high-quality egress windows early in your basement finishing project to avoid future complications. Our egress window systems are compatible with our comprehensive whole-home solutions, which address various issues from waterproofing to air quality.
What Are the Benefits of an Egress Window?
Egress window systems offer you and your home numerous advantages, including:
Emergency Exit: Egress windows provide a vital, safe, and convenient exit route in case of fire or other emergency. Building codes require them for safety.
More Natural Light: Egress windows let sunlight brighten your basement, making the space feel more open and inviting.
Curb Appeal: Attractive egress windows and wells improve the look of your home from the outside.
To get the most out of your new egress windows, rely on our basement specialists for installation using our proprietary basement and foundation products. Our uniquely designed, durable windows outperform those from big-box stores.
How We Install Egress Windows
We take care to install your new egress windows to the highest standard:
Evaluate the site
Remove old window
Mark and cut the opening
Install the window well
Secure the egress window
Ensure proper drainage and sealing
Add translucent window well cover
Backfill and landscape around the well
Apply basement waterproofing treatments for a dry basement and egress system
Trust Ohio Basement Authority as your go-to egress window and basement waterproofing provider for a flawless installation.
Why Our Egress Windows are the Best Choice for Your Home
Our professionally manufactured and installed egress window systems stand out from other options because of these features:
Compliant with IRC building codes
Egress wells designed for your home
Custom-fit for your opening size
Unique "Grip/Step" design for added safety
Durable, non-rusting, maintenance-free materials
Ohio Basement Authority has installed egress window systems throughout Central and Southern Ohio for 15 years. Homeowners trust our expertise and safety-first approach. Contact us today to learn more.
Contact Ohio Basement Authority for Egress Window Solutions Today!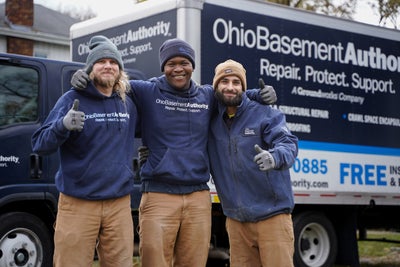 Outdated and damaged basement windows jeopardize the safety of your home and family. Ensure the well-being of what matters to you the most with durable, code-compliant egress windows. Contact Ohio Basement Authority today for a free inspection and estimate.
Our experts will assess your home and recommend the ideal egress solutions. Get peace of mind knowing your basement meets safety codes with premium windows installed by Central and Southern Ohio's #1 basement and foundation contractor.
FAQs
No, egress windows must meet residential code for opening size and height from the floor. Older windows usually need replacement. Contact Ohio Basement Authority if you need clarification about your current basement window system. 
Cost varies based on several factors, including egress window type, the size of the system, any existing damage, and whether other repairs are required. Our solutions offer great value for the quality and safety they provide. Contact Ohio Basement Authority to learn more and schedule a free inspection and estimate. 
Typically, installation can be completed in a single day. However, this also depends on any damage in your basement and other necessary repairs like basement waterproofing or foundation repair. Ohio Basement Authority provides an accurate timeline during a free inspection appointment. 
Publish Date:
Last Modified Date: