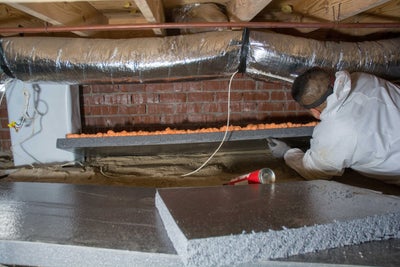 If you've been struggling with cold floors, drafts, or high energy bills, it's time to consider the condition of your crawl space insulation.
Crawl space insulation is an essential aspect of maintaining a comfortable and healthy home. Without proper insulation, your house may be susceptible to moisture, mold growth, and even pest infestations.
Insulating your crawl space can help to prevent these issues and improve the energy efficiency of your home.
Learn more as we delve into what crawl space insulation is, its benefits, and how to install it with professional guidance.
What is Crawl Space Insulation?
Crawl space insulation is a material installed in the crawl space beneath your home's floor. Coupled with other protective measures like a vapor barrier, the insulation helps to prevent moisture and air from entering your home, which can lead to mold growth, pest infestations, and other issues.
Crawl space insulation can also improve the energy efficiency of your house, reducing your heating and cooling costs.
Types of Insulation Material
While there are various kinds of insulation, here are the most common ones placed in crawl spaces.
Fiberglass Insulation
Fiberglass is the most widely used insulation in homes throughout Ohio and across the country. However, it does not belong in a crawl space. 
Rolls of this soft material are typically placed between the floor joists and rim joists in the crawl space to help the above floor maintain a constant temperature. But it is highly susceptible to moisture, mold growth, and pest infestation. 
Spray Foam Insulation
Insulation can also be sprayed onto surfaces like crawl space walls and floor and rim joists to help block out cold winter temperatures and hot summer air. It, too, is not ideal for a crawl space. 
Most kinds are closed cell spray foam, making them more rigid and sturdy, but they are not entirely damage-proof. Especially in a damp area like a crawl space, spray foam insulation can develop mold, emit unpleasant chemical odors, and lead to termite damage. 
Foam Board Insulation
For more effective insulation in your crawl space, opt for large, pre-formed sheets of thermal foam board insulation. These panels can be cut to size and are placed on interior crawl space walls.   
They also have reflective surfaces to improve heat retention. While they are thinner than other types like fiberglass insulation, they have superb insulation value. 
More on Crawl Space Insulation Panels
Rigid foam board insulation panels are the best option for your crawl space, and our team at Ohio Basement Authority installs a special type of rigid foam insulation – ExTremeBloc™.
These lightweight, durable panels are designed to fit snugly against the walls of your crawl space. They are easy for our crews to install and work best when paired with other crawl space encapsulation and repair solutions.
Here's what makes our ExTremeBloc™ foam board insulation stand out: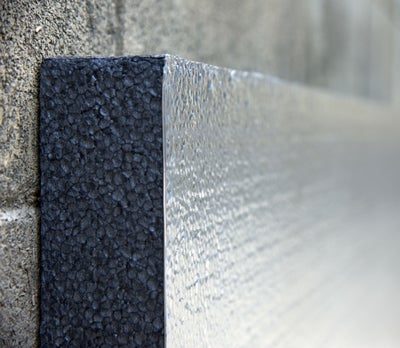 Eco-friendly materials
Graphite-infused, expanded polystyrene body
Radiant heat barrier coating
Integrated termiticide and pest deterrent
R-value of 10
Moisture resistant
Installed with a gap to allow for pest control inspections
What Does Crawl Space Insulation Fix?
Insulating your crawl space can have several benefits for your house and help stave off a variety of damaging crawl space problems, including the following:
Moisture Intrusion
First and foremost, crawl space insulation can prevent moisture from entering your home. This can help to prevent mold growth, pest infestations, and other issues with ground moisture that can affect your home's health and safety.
Energy Loss and High Bills
Without adequate insulation, your air conditioner and furnace work more, increasing energy bills. But by properly insulating your crawl space, you can lock out hot, muggy summer air and cold winter air. This can make your home more energy efficient, allow you to conserve energy, and lead to cost savings on your heating and cooling bills.
Indoor Climate and Comfort
In the same vein, insulation panels can create a more comfortable home environment overall by keeping your floors warmer in the winter and cooler in the summer.
How to Install Crawl Space Insulation
Installing crawl space insulation panels is a relatively simple process that should be completed by a crawl space repair professional like Ohio Basement Authority. Working in a crawl space can be a dangerous job, but we have the proper tools, protective gear, and experience to install this essential solution safely and efficiently.
As previously mentioned, installing crawl space insulation is part of a more extensive repair system with various pieces. The installation process depends on the unique repair needs of your crawl space, but here are basic steps our crews follow:
1. Prep the Crawl Space
First, the crawl space is cleaned and prepared for insulation. This includes clearing out any debris or failing insulation materials.
2. Remove Water
If water intrusion is a problem in your crawl space, it is removed, and water management solutions like interior drainage and a sump pump are installed.
3. Add Structural Reinforcement
If your floor joists are damaged and sagging, support posts can be installed to reinforce and help lift these floor joists, enhancing your home's structural integrity.
4. Seal Crawl Space Vents
A major problem with crawl spaces is their tradition of being built with open crawl space vents that perpetuate moisture problems. We block off these vents by snugly fitting sections of our foam board insulation into the vent area, and we can place airtight vent covers on the home's exterior upon request.
5. Insulate Crawl Space Walls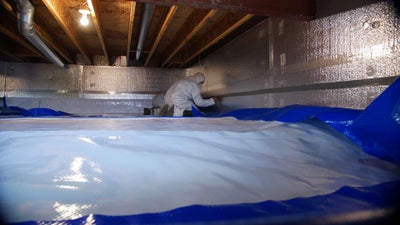 Then comes the insulation installation. The ExTremeBloc™ foam board panels are cut to size and fitted against the crawl space walls. They can be mechanically attached with special fasteners or glued to the concrete walls. We are also careful to leave an inspection gap to allow pest control specialists to complete any needed inspections.
6. Encapsulation with a Vapor Barrier
Next, we use a 20-mil vapor barrier liner to fully encapsulate the crawl space. This thick and durable liner is placed on the floor and walls and adhered with special tape. It is designed to work with our other solutions, including ExTremeBloc™ panels, to prevent water and vapor intrusion.
7. Control Humidity with a Dehumidifier
The final step involves adding an energy-efficient dehumidifier to control crawl space moisture further. This is a complete air system that also cleans the air, improves air quality, eliminates odors, and reduces the chance for mold and mildew growth.
Crawl Space Insulation
FAQs
If your crawl space lacks proper insulation, you'll notice various problems throughout your house, including:
Increased humidity
Temperature fluctuation
Cold floors during winter
Higher energy bills
Increased pest activity
Mold and mildew growth
Musty odors
The R-value measures the thermal resistance of building materials, such as insulation for crawl spaces. Higher R values indicate better heat retention.
The kind of insulation used, the material used, and the installation technique all affect the R-value. In addition to the insulation's thickness, heat retention is also influenced by the material's conductive qualities.
Many types of crawl space insulation can last 15 to 20 years but can fall victim to mold and moisture if the crawl space is not properly sealed and encapsulated.
Rigid foam board insulation, on the other hand, is designed to be a permanent solution. The ExTremeBloc™ foam board insulation panels installed by our team at Ohio Basement Authority carry a lifetime warranty and will be checked during annual maintenance inspections.
Why Choose Ohio Basement Authority for Your Crawl Space Insulation Needs?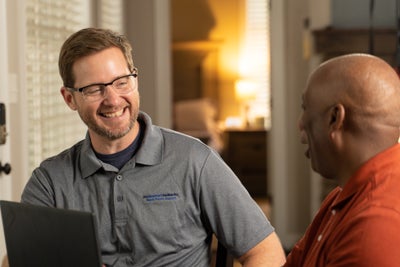 At Ohio Basement Authority, we understand the importance of a properly insulated crawl space.
You can trust our staff with all your crawl space repair needs, as we have been serving homeowners throughout Columbus and Central Ohio for many years. Our team of experts has the experience and knowledge necessary to install crawl space insulation quickly and efficiently.
We offer a variety of solutions to fit your specific needs and budget, and we stand behind our work with a quality guarantee. We also provide free inspections and estimates so you can determine the best course of action for your home's specific needs. Trust the experts at Ohio Basement Authority for all your crawl space insulation needs, and enjoy a more comfortable, energy-efficient home.