Crawl Space Sump Pump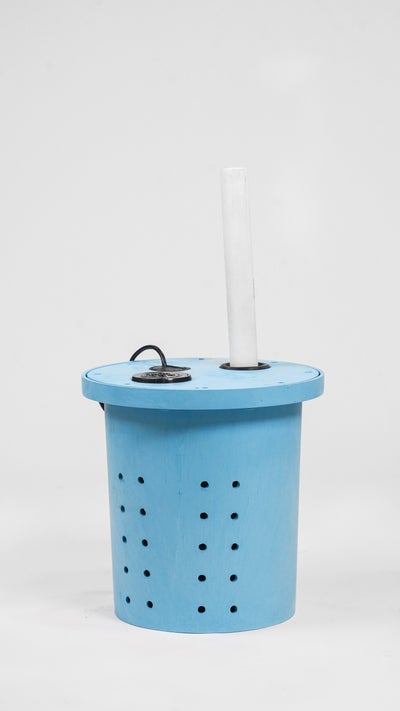 Struggling with water intrusion or flooding in your crawl space can be a homeowner's nightmare, potentially leading to mold, structural damage, and reduced air quality throughout your home. But you don't have to put up with these problems.
Ohio Basement Authority specializes in transforming this damp, neglected space into a clean, dry area under your home.
Our crawl space waterproofing process, featuring the innovative AquaStop™ Crawl Space Sump Pump system, addresses water issues at their source.
Trusted by homeowners throughout Central and Southern Ohio for 15 years, Ohio Basement Authority provides peace of mind and lasting solutions that protect your home's integrity and your family's health.
After reading this page, you'll understand how our sump pump installation and crawl space encapsulation solutions solve water problems for good.
What is a Crawl Space Sump Pump System?
A crawl space sump pump system is a critical component in the fight against excess moisture and water damage in your home's below-grade space. It is a submersible pump installed in the lowest part of a crawl space, set within a sump pit or basin.
Water collected from the interior drainage system is drained into the sump basin. When water enters the basin, the pump is activated by a float switch. The system removes the water from the crawl space, typically expelling it through a discharge line safely away from the property.
Our crawl space sump pump is more than just a standalone fix; it's an integral piece of a comprehensive moisture management strategy that includes encapsulation, drainage, and dehumidification to maintain a dry and healthy living environment.
Installing this system addresses the immediate issue of standing water. It is crucial to the overall air quality and structural stability of your entire home.
Signs You Need a Crawl Space Sump Pump
Knowing when to invest in a crawl space sump pump system can save you from costly damage. Look for these common symptoms: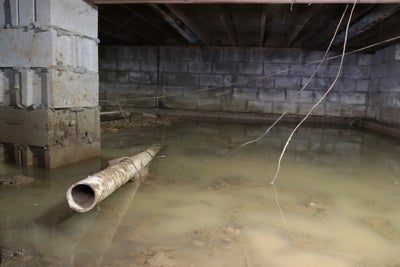 Musty odors, indicating potential mold growth
Elevated humidity levels within your home
Evidence of pest infestations
Deterioration of crawl space insulation
Crawl space drainage problems
These symptoms point to moisture concerns that, if ignored, can develop into serious complications.
Is Crawl Space Waterproofing Necessary?
Yes, waterproofing your crawl space with a reliable sump pump is essential to prevent further damage.
Otherwise, ignoring signs of crawl space moisture leads to escalating problems and more extensive and expensive repairs later. We do not recommend DIY repairs because entering your crawl space can be dangerous, and big-box store products are temporary bandages.
Early intervention with solutions like Ohio Basement Authority's crawl space sump pump is vital. This system is more than waterproofing; it fortifies your home against various moisture-related problems, contributing to a healthier, more durable whole-home environment.
What Are the Different Kinds of Crawl Space Sump Pumps?
Since every home is unique and has different needs, we offer a range of sump pump systems specifically designed for your crawl space.
AquaStop Mini/Single Sump Pump System.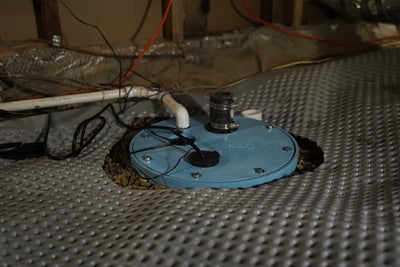 The single sump pump system, designed with a small basin to fit in tight crawl spaces, uses a durable SafeDri™ cast iron pump for typical water removal. We generally install a SafeDri™ 1/3 hp pump, which can pump more than 2,000 gallons of water per hour.
AquaStop Single with Battery Backup
We can add a backup battery to our single sump pump system to ensure it continues to operate during power loss. This battery enables the system to discharge more than 11,500 gallons of water per hour.
AquaStop Triple Sump Pump System
The three-pump AquaStop Triple Sump Pump System is our most dependable system, offering complete protection. Everyday water removal is handled by the primary SafeDri™ 1/3 hp pump. For higher quantities, a second SafeDri™ ½ hp pump—that can handle more than 3,000 gallons per hour—increases capacity. During power outages, a third pump—the battery backup pump—provides protection.
Our trained technicians will evaluate your crawl space's moisture concerns and suggest the appropriate sump pump system tailored to your home's unique requirements. Every sump pump we offer caters to distinct needs.
What Are the Benefits of a Crawl Space Sump Pump?
Integrating a sump pump into a comprehensive repair solution offers numerous advantages for your home and family:
Eliminates Standing Water: Sump pumps remove all standing water so it can no longer cause problems.
Reduced Humidity and Mold Risk: A dry crawl space means lower humidity levels, drastically reducing the risk of mold and musty odors.
Improves Indoor Air Quality: Dry, clean crawl spaces don't emit humidity or spores into your living areas.
Enhanced Structural Integrity: By keeping the area under your home dry, you're helping to preserve its structural integrity, preventing costly damage to your home.
Increased Energy Efficiency: A dry and well-sealed crawl space prevents cold drafts and heat loss, increasing energy efficiency and comfort in your home.
Provides Healthy Living Environment: Clean air and a structurally sound crawl space create a healthy home environment for your family.
These benefits are maximized when using our specialized products, designed for durability and efficiency, surpassing what you'd find in retail stores.
How Ohio Basement Authority Installs Crawl Space Sump Pumps
A sump pump is essential for thorough crawl space encapsulation. Ohio Basement Authority adheres to the following procedure to install these all-encompassing systems: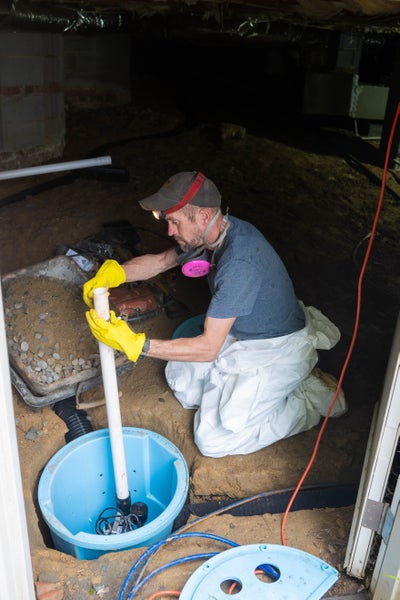 Inspect the crawl space and pinpoint the water issue.
Seal vents and replace access doors as needed.
Place crawl space drainage in the dirt floor to collect water.
Determine the lowest point of the crawl space.
Place the sump basin in a pit dug in the lowest part.
Install pumps and components in the sump liner.
Connect interior drainage channels to the sump pump.
Install interior sump pump discharge pipes.
Direct discharge pipes through the crawl space wall.
Place exterior discharge pipes in the ground.
Add an electrical sump pump hookup.
Attach a sump pump backup battery as needed.
Place drainage matting on the crawl space floor.
Attach insulation panels to the crawl space walls.
Encapsulate the crawl space with a vapor barrier.
Attach an airtight lid to the sump basin.
Install an energy-efficient crawl space dehumidifier.
Schedule annual maintenance inspections.
Ohio Basement Authority is the premier provider of crawl space services, ensuring a reliable, professional installation. As Central and Southern Ohio's crawl space repair authority, we handle every detail, from inspection to final testing.
Why Our Crawl Space Sump Pumps are the Best Choice for Your Home
Our AquaStop™ sump pumps stand out as the best option for crawl space protection because of their unique features and advantages:
Durable cast iron pumps
Quiet operation
Water level alert system
Secure, airtight cover
Multilayered safeguarding
Compatibility with additional systems
Backup options for power outages
Ongoing protection with annual maintenance
Long-term, transferable warranty
Contact Ohio Basement Authority for Crawl Space Waterproofing Today!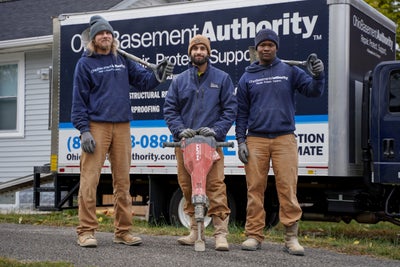 A wet crawl space is detrimental to your home and family, but trusted waterproofing and encapsulation solutions ensure ongoing protection. Ohio Basement Authority's proprietary crawl space products offer comprehensive protection that big-box store alternatives can't match.
Our experts create custom solutions to keep your home dry, clean, and safe for your family. Trust Ohio Basement Authority for top-notch crawl space solutions. Contact us today to schedule a free crawl space inspection and to prevent further damage to your home.
FAQs
While critical, a sump pump is most effective in our broader crawl space repair and encapsulation strategy. This includes:
The cost depends on crawl space size, repair scope, and customization. You will receive a no-obligation estimate with an accurate price breakdown after a free crawl space inspection from an Ohio Basement Authority expert. We also offer various financing options. Contact us to learn more. 
We recommend yearly check-ups to ensure optimal operation. Enroll in our annual maintenance program when you waterproof and encapsulate your crawl space with Ohio Basement Authority. Contact us to learn more and to schedule a free crawl space inspection. 
Publish Date:
Last Modified Date: