Wall Anchors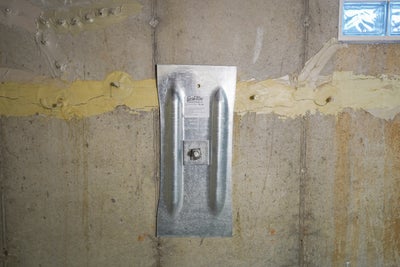 Is your basement displaying signs of damage, such as wall cracks and inward bowing? These symptoms suggest your basement walls require additional reinforcement.
Ohio Basement Authority has the right tools and training to repair your basement walls. Through our dependable wall anchor system, you can effectively stabilize your foundation and curtail further damage.
Ohio Basement Authority offers resilient basement repair solutions, including wall anchor installations that provide lasting support to weakened walls. Our wall anchors grip onto stable soil, preventing foundation movement and gradually straightening walls. Act now to strengthen your basement and avoid the costly need for complete wall replacement.
What are Wall Anchors?
Wall anchors are robust steel brackets embedded into the soil surrounding the basement walls. A wall anchor system consists of three primary components:
Interior Anchors: These brackets are securely fastened to the interior of the basement wall using expansion bolts. 
Earth Anchors: These brackets are embedded in stable soil at least 10 feet away from the basement wall.
Steel Rods: Steel rods connect the interior and exterior brackets. 
Wall anchors extend into the soil beyond the disturbed ground near the foundation. This reinforcement technique involves bracing the wall at its weakest points, effectively stopping lateral movement and enhancing foundation stability as they are tightened over time.
Signs You Need Wall Anchors
If your wall needs repair with wall anchors, you'll notice these common problem signs:
Basement Wall Cracks: Horizontal or stair-step cracks along walls indicate inward shifting of the walls.
Bowing Walls: Walls that exhibit a bowing or tilting appearance necessitate reinforcement.
Basement Water Infiltration: Water seepage or moisture through cracks can lead to mold, property damage, and structural issues.
Musty Odors: The presence of musty odors signifies water intrusion and mold growth within the basement.
Installing wall anchors at the initial signs of damage can prevent the worsening of these problems.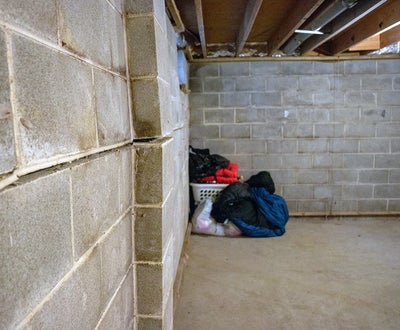 Is a Wall Anchor System Necessary?
Stabilizing compromised basement walls using a wall anchor system is crucial before they deteriorate irreparably. Further wall movement puts your home at risk. Ignoring cracks or bowing walls can lead to leaks, unsafe living conditions, mold growth, and eventual structural failure.
Integrating wall anchors as part of a comprehensive basement repair strategy is highly recommended, especially for concrete block or poured walls displaying damage. Combining wall anchors with solutions that address drainage and soil-related issues provides optimal protection.
How We Install Wall Anchors
Our certified wall anchor installation process involves:
Excavating the ground at least 10 feet away from the basement walls.
Drilling guide holes for anchor rods into solid soil. 
Hydraulically driving anchor rods through the wall.
Embedding earth anchors in the soil.
Attaching steel brackets securely onto the foundation walls.
Connecting extending rods to the wall brackets.
Backfilling the excavated area once brackets are firmly in place.
Making gradual tightening adjustments over time to straighten walls.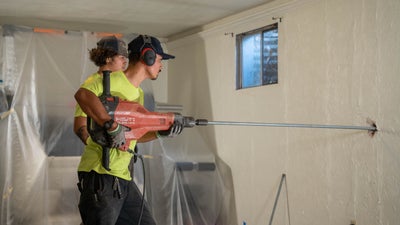 Precise wall anchor installation stabilizes basement walls and reinstates structural soundness. As esteemed local experts, Ohio Basement Authority adheres to exact specifications, ensuring your wall anchor system delivers maximum reinforcement.
Benefits of Ohio Basement Authority Wall Anchors
Ohio Basement Authority's wall anchor systems offer a range of benefits, including:
Prevent lateral movement and stabilize failing foundation walls.
Correct bowing or cracking walls, restoring structural integrity.
Transfer foundation pressure to stable soil outside the home.
Halt the widening of existing cracks.
Avoid the need for expensive total foundation replacement.
Receive a transferable limited lifetime guarantee.
Our proprietary wall anchors seamlessly integrate with other solutions, such as basement waterproofing systems.
Why Choose Ohio Basement Authority's Wall Anchor Solution?
Ohio Basement Authority offers customization, annual maintenance plans, financing options, and a transferable lifetime guarantee. Additionally, we provide other solutions like drainage improvements to support repairs. Contact Ohio Basement Authority today for a complimentary inspection and in-depth information about the advantages of wall anchors.
Contact Ohio Basement Authority for Trusted Wall Anchor Installation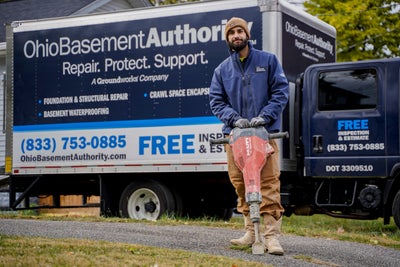 For enduring protection against foundation damage, rely on the Ohio Basement Authority wall anchor system. Our locally manufactured wall anchors securely anchor your home's foundation for a lifetime.
Schedule a free, no-obligation inspection today to discover how wall anchors can stabilize your compromised basement walls. Strengthen your home now with Ohio Basement Authority's wall anchors and put an end to further damage.
FAQs
Yes, wall anchors provide a long-lasting and permanent solution to basement wall instability. Once the wall anchors are installed and properly tightened, they effectively stabilize the walls and prevent further movement.
The installation process varies depending on the extent of the damage and the number of wall anchors needed. However, our experts follow a precise installation process to ensure optimal results. Typically, installation can be completed within a few days.
Wall anchor systems are particularly effective for concrete block or poured foundations showing signs of damage such as bowing or cracking. Our experts will assess your specific situation and recommend the most suitable solution for your foundation type.
Publish Date:
Last Modified Date: