You're in your house every day, walking from one room to another, so it might not seem like a big deal if the floor underneath seems a bit shaky.
Whether you ever wore Moon Shoes or not, you might feel like you're walking on bouncy floors inside your home. This is a problem that's more than just a small annoyance. It can mean something is seriously wrong with your home and its structural integrity.
The moment you start to feel like you're no longer walking on solid ground within your home, it's important to reach out for professional assistance.
Ohio Basement Authority is a national leader in foundation repair, crawl space repair and encapsulation, basement waterproofing, and concrete lifting services. We are committed to serving homeowners in Central and Southern Ohio and Northern Kentucky, providing reliable, permanent solutions for crawl space problems – including bouncy floors.
Learn more about this common problem and how our team can help restore your home's safety.
Bouncy Floors: Common but Deadly
It's not uncommon to walk across a floor in your home and feel it give slightly under your weight. Many people simply brush off the experience, especially if they are in an older home.
Bouncy floors may seem like minor aesthetic and mobility inconveniences, but they can point to major structural issues and safety hazards.
Floors that sag and feel bouncy are often a sign of underlying problems such as weakened joists or support beams. If left untreated, these issues can worsen over time, leading to significant damage and potentially costly repairs.
The Source of Bouncy Floors
Structural problems like bouncy floors can be caused by a variety of factors, including: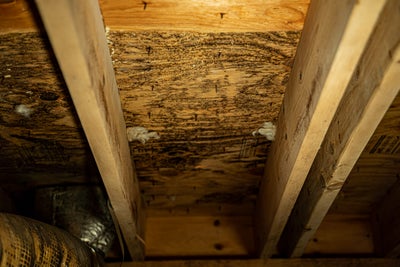 Over Spanned Joists: The joists supporting the floor above your crawl space can become over spanned if they are spaced too far apart or are too long for their depth. When this happens, this incorrect spacing causes the joists to bounce or flex more than they should.
Inadequate Support: Similarly, if the supports under your floor – like posts or beams – are not properly installed or have shifted, they may not provide the necessary support – leading to bouncy floors.
Weakened Joists: Over time, wooden floor joists can lose their strength due to factors like excessive moisture exposure, wood rot, pest damage, or general use.
How to Fix Bouncy Floors
While bouncy floors are a common problem, your home is unique and needs more than simply a "one size fits all" solution.
Depending on the amount of damage and what caused it, the bouncy floors in your home deserve repairs tailored to meet their specific needs. These can include: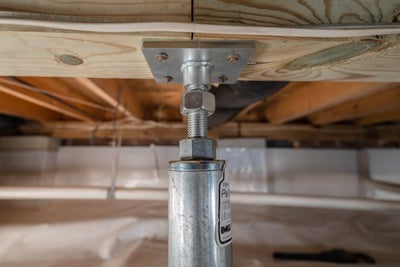 To find out exactly what your crawl space needs, it's crucial to have a professional assess your home and determine the best solution.
Fix Your Bouncy Floors the Right Way with Ohio Basement Authority
Bouncy floors can compromise the safety and comfort of your home. Don't put your family in danger – repair and protect your home today with help from trusted local experts.
At Ohio Basement Authority, our team has the expertise and experience to diagnose and repair bouncy floors. Contact us today to schedule a free inspection and estimate. You can trust us to provide the best possible service, backed by the expertise and trustworthiness of the Groundworks family of companies.
FAQ: Bouncy Floors
Two sagging floors that appear to be the same from the top may have different underlying causes. For example, some sagging floors may be caused by wood rot; others occur as a result of too much weight resting on top of a floor joist. 
It's important to address the root cause rather than the symptom. This ensures that you apply a specific solution rather than a broad one that wastes time, money, and energy. The less intrusive the repairs, the more precise the solution. For example, a home with wood rot may require floor joist replacement, whereas a home with too much weight on top may only require crawl space jacks. 
Handling DIY repairs works for some areas of your home, but we do not recommend that you attempt to fix over spanned floor joists by yourself. You could run into many issues that are dangerous both to the stability of your home and your personal health and well-being. However, when you hire a professional to undertake these kinds of repairs, you get a quicker, more efficient repair process, higher-quality results, and the peace of mind that comes with knowing the issue has definitely been resolved.
Depending on the severity of the damage and the necessary remedy, the price of the project may vary. In order to better assist you understand the prospective expenses, we offer free, no-obligation inspections and estimates.