Concrete Patio Repair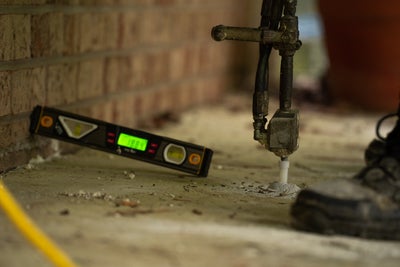 Enjoying time outside in Central and Southern Ohio's varied weather is part of the fun of owning a house with a patio. But that delight can be jeopardized as the patio sustains damage over time.
Cracked or sinking patios can diminish your home's appeal and present hazards to your family. Ohio Basement Authority specializes in concrete patio repair using the advanced SettleStop™ PolyRenewal™ concrete lifting system.
Recognized as the region's leading concrete repair provider, we aim to restore the beauty, safety, and functionality of your outdoor space.
This page guides you through the importance of concrete patio repair and why modern solutions are critical for a safer living environment.
What is Concrete Patio Repair? 
Concrete patio repair involves rejuvenating damaged patio areas to their original state or even better.
Beware of big-box store products or methods previously revered as effective solutions—mudjacking and repouring. These outdated, invasive, and expensive techniques cannot support the concrete patio long-term, as they do not address the cause of the problem.
The better process of tackling common issues like sinking and cracking patios involves reinforcing the slabs and underlying soil. Specifically, Ohio Basement Authority's exclusive PolyRenewal™ concrete lifting system deals with soil instability and oversaturation challenges.
This is an ideal standalone product to raise your patio to its proper level, and it's part of our broader whole-home solutions. By opting for concrete lifting, homeowners repair the patio and contribute to the overall stability of their home structure.
Signs Your Concrete Patio Needs Repair 
If you notice visible damage or irregularities on your patio, it may be time for a repair. Here are common indicators:
Pronounced cracks spreading across the patio
Sinking concrete slabs or obvious uneven areas
Pooling water during rain
Separation of the patio from adjoining structures
Concrete pitting, flaking, or staining
Damage to other concrete structures (driveways, sidewalks, and steps)
You can save time and money by spotting concrete deterioration early on. When you detect these signs, speak to a concrete repair expert, like Ohio Basement Authority.
Is Concrete Patio Repair Necessary?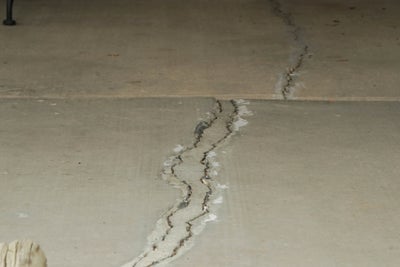 Absolutely. Neglecting timely repairs will escalate the damage, making future repairs more extensive and costly. This also limits viable repair options.
Addressing the issue ensures the patio's durability and protects your home's safety and aesthetic appeal.
We don't recommend supposed "quick fixes" or settling for what was once considered "tried and true" repairs like mudjacking or repouring.
Your home deserves comprehensive protection. As part of Ohio Basement Authority's holistic home solution, timely patio repairs can avert foundational threats to your property.
What Are the Benefits of Concrete Patio Repair? 
Repairing your concrete patio comes with many advantages:
Boosted Safety Measures 
Compromised patios can lead to unfortunate accidents and mishaps. We minimize safety hazards by raising and solidifying patio slabs, creating a secure environment for residents and guests.
Halting Damage in Its Tracks 
Elevating sunken patios and mending fissures curbs further deterioration of your concrete and its foundational structure.
Visual Enhancement 
Rejuvenated, immaculate concrete patios amplify your home's visual allure and worth. Our exclusive concrete lifting technique ensures minimal visible signs of restoration.
Prolonged Durability 
Our distinctive PolyRenewal™ approach offers more enduring outcomes compared to conventional techniques.
Trust in our expertly crafted, precision-engineered solutions for optimal results. Our eco-conscious PolyRenewal™ concrete lifting system not only lifts swiftly but is also designed to stand the test of time. Leveraging our profound expertise guarantees that your restoration is executed flawlessly from the outset.
How Our Concrete Patio Repair Works 
Here is the process our team follows to expertly install concrete patio repair:
Drill small, penny-sized holes into the affected patio areas.
Insert injection ports in the holes.
Mix a two-part, closed-cell polymer foam.
Inject foam beneath patio slabs.
The foam expands, fills voids, and cures within 15 minutes.
Lift the slab and stabilize the soil.
Remove ports, fill, and smooth drilled holes.
Apply sealant to cracks and joints to prevent further damage.
Conduct regular maintenance.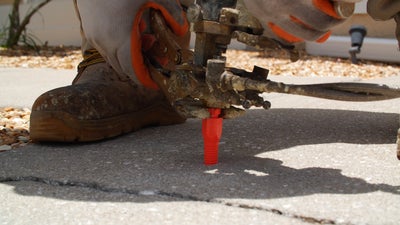 As the leading concrete repair provider in Central and Southern Ohio, our experienced crews know how to properly assess and repair your concrete patio for optimal, lasting results. We guarantee flawless execution, making us your best choice for patio repair.
Why Our Patio Repair is the Best Choice for Your Home 
Ohio Basement Authority's PolyRenewal™ concrete lifting solution is a leading choice for concrete step repairs due to its:
Precision: Provides unparalleled accuracy in elevating and maintaining balance.
Low Impact: Negates the necessity for heavy machinery or extensive excavation.
Lightweight Composition: The foam weighs less than substances used in classic concrete pouring or mudjacking.
Rapid Setting: Hardens and becomes operational within a brief 15-minute window, minimizing interruption.
Robustness: Designed to withstand external factors and ensure longevity.
Versatility: Applicable across a broad spectrum of concrete structures.
Non-Toxic Design: Crafted with a nod to sustainability and minimal environmental impact.
Seamless Integration: Post-repair visibility is minimal, blending seamlessly with the surrounding concrete.
Committed Maintenance: Our yearly service and maintenance ensure prolonged top-tier performance.
Contact Ohio Basement Authority for Concrete Patio Repair Today!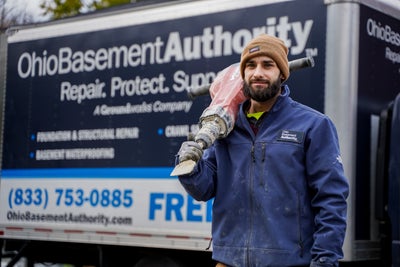 A damaged concrete patio is a welfare hazard. Reclaim the beauty and safety of your patio with Ohio Basement Authority's expert services. Contact us today for a free, no-obligation inspection.
Our experienced team can quickly and effectively lift and stabilize your patio slabs, eliminating trip hazards while restoring your patio's beauty. Investing in high-quality repairs now saves money on potential patio replacement in the future.
FAQs
Concrete patios sustain damage like cracking and sinking for many reasons, including soil settlement and erosion, oversaturated or dry soil, invasive tree roots, and poor installation. Ohio Basement Authority's experts can determine the cause during a free inspection, which enables them to recommend customized repair solutions. 
Costs vary depending on the size of your patio and the extent of the damage. We provide free inspections, no-obligation estimates, transparent pricing, and financing options so you know exactly what to expect. 
We do not recommend DIY repairs, as they are cosmetic fixes that do not effectively tackle the root of the problem. It's always best to consult a professional like Ohio Basement Authority for significant cracks or when unsure about the cause of the damage. Professionals ensure a comprehensive, long-lasting solution that prevents potential safety hazards and protects your home. 
Publish Date:
Last Modified Date: