Driveway Repair
A cracked and sinking driveway tarnishes the aesthetic of your home, can decrease property value, and can quickly escalate to a dangerous surface.
Fortunately, Ohio Basement Authority, utilizing the innovative SettleStop™ PolyRenewal™ concrete lifting system, has the proficient solution to reinstate the safety and appearance of your driveway. Polyurethane foam injection is a solution that involves injecting a lightweight, durable foam under the driveway to effectively lift and stabilize the slabs.
Homeowners throughout Central and Southern Ohio have trusted us to lift and stabilize their concrete for 15 years. They know they can count on us for personalized service and lasting repairs.
This page educates you about our state-of-the-art concrete driveway lifting and repair service and why it is the best solution for your home.
What is Concrete Driveway Repair? 
Concrete driveway repair involves rectifying damaged, cracked, or sunken concrete within your property's driveway to restore its height, stability, and aesthetic appeal.
Traditional repair methods include mudjacking and repouring, but they are invasive, expensive, temporary, and do not address the root of the problem.
The crux of Ohio Basement Authority's exclusive repair solution, concrete lifting with polyurethane injections, is a pivotal component of a comprehensive whole-home solution, ensuring a visually appealing, safe, and functional living space.
With our customizable PolyRenewal™ concrete lifting system, we address issues caused by unstable underlying soil and oversaturation, providing a long-lasting solution that benefits your driveway and overall home environment. By optimizing your driveway's health, you improve your home's curb appeal, usability, and resale value.
Signs Your Concrete Driveway Needs Repair 
It's important to address driveway problems before they worsen. Signs that your concrete driveway needs repair include:
Visible Cracks: Various cracks or large fissures wider than ¼".
Unevenness: Sinking slabs or dipping areas of the driveway.
Pooling Water: Water accumulation in certain spots on or near the driveway.
Crumbling Edges: Deteriorating sides and edges.
Related Damage: Pitting, flaking, or staining on the concrete's surface.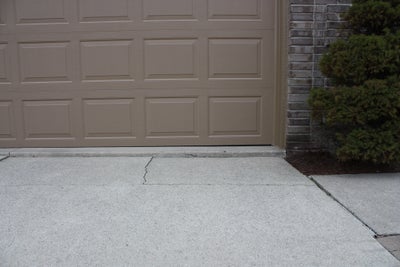 Early detection prevents safety issues, further damage, and costly repairs. Contact Ohio Basement Authority for effective driveway repair solutions you can trust.
Is Concrete Driveway Repair Necessary?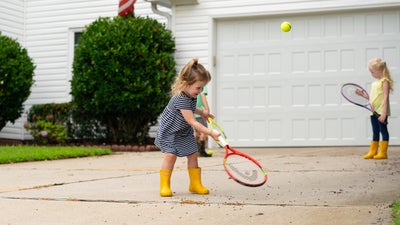 Absolutely. Due to soil instability and freeze-thaw cycles, most concrete driveways will eventually crack and settle.
Delaying repairs allows moisture beneath the driveway to cause further erosion and sinking. The longer you neglect the issue, the more severe the driveway damage becomes, limiting your available repair options.
Early concrete lifting repairs your driveway before problems escalate and helps prevent the need for complete driveway replacement in the future. Repairing your driveway as soon as issues appear is the most affordable and effective approach.
It also allows our experts to fully evaluate your property for foundation settling that may be contributing to the driveway damage.
What Are the Benefits of Concrete Driveway Repair? 
There are many advantages of repairing your driveway with concrete lifting, including:
Avoiding Further Damage: Fixing cracks and lifting your sunken driveway prevents continued concrete deterioration. Water flow will cease, preventing further soil erosion. You protect your investment from needing more extensive repairs later.
Improved Safety: Raising settled sections and filling cracks creates an even, flat driveway surface. This corrects tipping hazards and eliminates dangerous rain puddles, making the driveway safe and functional.
Enhanced Curb Appeal: A clean, smooth driveway improves your home's appearance for you and visitors. It also boosts property value.
Customized Solution: Rather than a quick fix, our experts provide customized repairs based on your property's unique needs. We evaluate the driveway and the foundation to address the root causes, not just the symptoms. Our solution helps ensure repairs last long-term.
It's crucial that repair services are executed with superior products and expertise, such as our PolyRenewal™ concrete lifting system, developed explicitly for durability, efficiency, and minimal environmental impact, ensuring you receive unparalleled benefits.
How We Install Concrete Driveway Repair 
Ohio Basement Authority's PolyRenewal™ concrete driveway lifting process involves several key steps:
Inspect the driveway to determine the damage, cause, and appropriate repair.
Drill penny-sized holes into the affected areas.
Insert injection ports into the holes.
Mix a closed-cell polymer foam.
Inject the foam underneath driveway slabs.
Allow the foam to expand and cure within 15 minutes.
Lift the slab and stabilize the soil underneath.
Remove the ports and smooth the drilled holes.
Apply sealant to cracks and joints to prevent future damage.
Implement a maintenance and monitoring plan.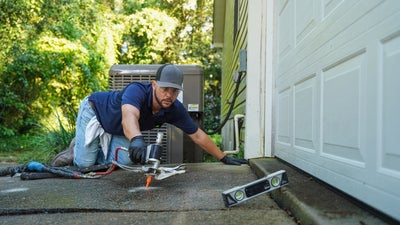 Choosing Ohio Basement Authority ensures these steps are executed flawlessly, providing a lasting repair.
Why Our Driveway Repair is the Best Choice for Your Home 
Our PolyRenewal™ concrete lifting system offers unique features and advantages:
Precision: The PolyRenewal™ system provides meticulous lifting and stabilization.
Minimally Invasive: No heavy installation equipment or extensive excavation.
Lightweight: Foam is much lighter compared to additional concrete or mudjacking materials.
Speed: Cures in just 15 minutes to minimize disruption.
Durability: Resilient to environmental stressors.
Versatility: Foam can be used under various concrete surfaces.
Non-toxic: Comprised of eco-friendly and long-lasting materials.
Undetectable: Seamless repairs that are nearly invisible.
Maintenance: Our annual maintenance plan assures longevity and persistent quality.
Contact Ohio Basement Authority for Concrete Driveway Repair Today!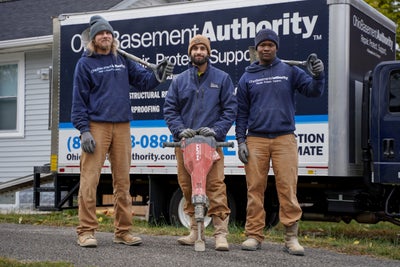 You don't have to settle for living with a damaged driveway. Restore its beauty and safety with Ohio Basement Authority's expert concrete lifting services. We provide solutions and repairs customized for your property, harnessing the power of PolyRenewal™ to deliver long-lasting, efficient protection.
Contact us today for a free inspection and estimate from Central and Southern Ohio's most trusted home repair contractor. Our 15 years of experience, thousands of satisfied customers, and unmatched customer care speak for themselves. We're eager to help you transform your home, too.
FAQs
Concrete driveways sink, crack, and sustain other damage due to erosion beneath the slabs caused by expansive soil, soil instability, water intrusion from cracks, and freeze/thaw cycles. Heavy vehicles parked in the same place for extended periods can also result in driveway sinking. Contact Ohio Basement Authority for a free inspection to determine the source of the problem and the best repair solution. 
Remarkably, the PolyRenewal™ system cures within 15 minutes, allowing almost immediate use post-repair, ensuring minimal disruption to your routine. This is more efficient than methods like repouring or mudjacking, which can take several days to cure before the driveway is operational again. Contact Ohio Basement Authority for a free inspection and estimate for concrete lifting repair. 
Costs vary depending on the extent of damage, the size of the repair area, and the type of repair required.  While traditional repairs like mudjacking and repouring can be expensive, Ohio Basement Authority's concrete lifting is cost-effective and longer-lasting. We provide free inspections, no-obligation estimates, transparent pricing, and financing and payment options to fit your budget. 
Publish Date:
Last Modified Date: