Bowing Basement Wall
Your basement walls should stand straight and tall and not appear on the brink of collapse.
Bowing basement walls can cause stress and potential dangers. At Ohio Basement Authority, we know that bulging basement walls indicate serious structural issues requiring immediate attention.
With our comprehensive guide, you'll be better prepared to address bowing basement walls and protect the value and safety of your home.
What is a Bowing Basement Wall?
Basement walls are primarily situated below the ground and are subject to various damage, including inward bowing.
This bowing means that the wall appears to bulge and shift inward. It is most prominent in the center of the wall.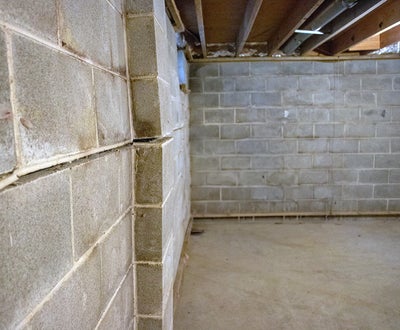 Other telltale signs you may notice include:
Horizontal wall cracks
Stair-step cracks in block walls
Diagonal cracking at corners of poured concrete walls
What Causes Basement Walls to Bow Inward?
Several factors cause basement walls to abnormally bulge or bow over time, including:
Poor Drainage and Water Management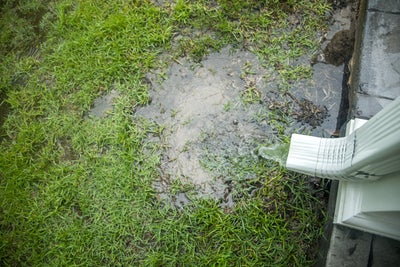 We are no strangers to rain, as our region's humid continental climate lends itself to plenty of precipitation throughout the year. Our homes must be ready to manage this water with measures such as gutters, downspouts, and downspout extensions.
Insufficient drainage keeps the soil around basement walls excessively saturated. The weight and pressure of the wet soil bear down on the walls. Leaks and inadequate basement waterproofing systems also allow moisture to contact walls.
Soil Conditions and Hydrostatic Pressure
Many cities throughout Central and Southern Ohio receive more than 40 inches of annual rainfall and at least 15 inches of snow per year. Certain soils like clay—common throughout Ohio—expand and contract more with moisture changes than other soil types.
This expansion places significant stress on basement walls. This force—known as hydrostatic pressure—causes bowing and cracking over time.
Freezing and Thawing
Similarly, seasonal freeze-thaw cycles can take a toll on your basement walls. The constant expansion and contraction can cause stress on the concrete walls, especially when water freezes and thaws within them. This pressure stresses and bows the walls and causes various cracks.
Foundation Settlement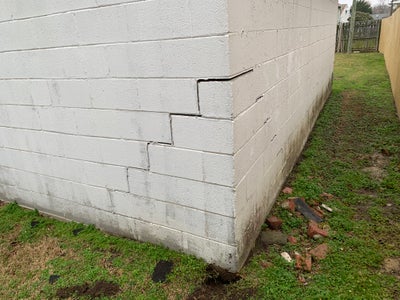 A shifting or settling foundation is a separate issue caused by soil problems, but it can be related to bowing basement walls. As you can see, the wall pictured here suffering from foundation settlement shows exterior symptoms like cracking and movement.
When your foundation settles, it can throw basement walls out of plumb. The walls bow under the foundation's uneven movement.
Poor Wall Construction
While they are less common than the environmental factors explained above, construction mistakes do happen.
Sometimes, low-quality materials may have been used, the walls may lack sufficient steel reinforcement, and steps may have been missed during construction site prep work, leaving basement walls more prone to bowing than walls built to code.
Can You Fix Bowing Basement Walls?
While this issue can be distressing, most bowing basement walls are not beyond repair.
Correctly diagnosing each factor is vital to repairing and preventing further bowing damage. This task can be challenging for homeowners, as bowing basement walls often accompany or signal other types of damage.
You can trust our team at Ohio Basement Authority to accurately pinpoint the root cause of your bowing basement walls and provide the best repair solutions tailored to your unique situation.
How to Repair Bowing Basement Walls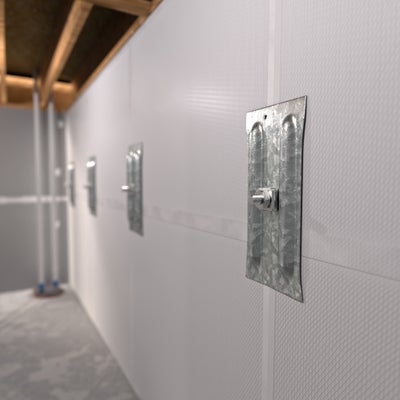 To restore structural integrity, bowed walls require supplemental reinforcement such as:
Carbon Fiber Reinforcement: Flexible carbon fiber straps bond to wall surfaces to provide tensile strengthening. These straps counteract bowing forces and hold the wall in its current position.
Steel Beams: Adjustable steel I-beams—like our IntelliBrace™ system—support walls along their length and stabilize bowed areas. Beams transfer some pressure off walls.
Wall Anchors: Steel wall anchors bolt into the walls from the interior and anchor securely to the stable soil outside. Anchors counteract inward bowing.
Additionally, moisture management plays a major role in protecting your home and basement walls. These methods include:
Drainage Improvements: Properly functioning exterior drainage systems—including gutters, downspouts, downspout extensions, and landscape grading—significantly reduce hydrostatic pressure and soil moisture against walls.
Basement Waterproofing: From interior drains and sump pumps to wall vapor barriers and dehumidifiers, our customizable basement waterproofing solutions create a water barrier to protect walls from moisture damage.
Ohio Basement Authority offers proven bowing wall repair and basement waterproofing methods using top-quality materials that outperform basic hardware store alternatives. Our comprehensive approach resolves the underlying causes.
Why Repair Bowing Walls Now?
Avoid postponing the repair of bulging basement walls. Here's why:
Bowing worsens over time as soil pressure and water damage increase.
Cracks widen, allowing more water intrusion that further deteriorates walls.
Buckling walls cannot properly support the home's structure and floors above.
Severe bowing leads to catastrophic wall failure and potential collapse.
As walls increasingly deform, repairs become much more invasive and costly.
Ohio Basement Authority offers detailed analysis and tailored reinforcement solutions for homeowners dealing with basement wall bowing. We eliminate wall bulges and prevent future buckling and damage.
Contact Ohio Basement Authority for Lasting Bowing Wall Repairs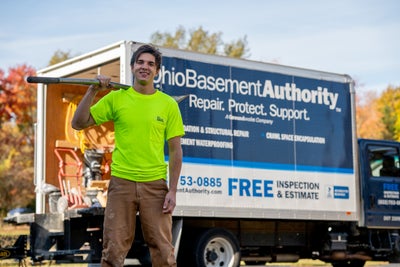 Don't tolerate worsening wall bowing and unnecessary risk. At Ohio Basement Authority, we identify and treat the root causes of bowing using advanced diagnostics and premium wall reinforcement technologies. Our systems permanently stabilize foundation walls and restore structural integrity.
Don't settle for short-term fixes. Contact Ohio Basement Authority for proven solutions to repair bowing basement walls at their source. Schedule a free inspection today!