Wall Shearing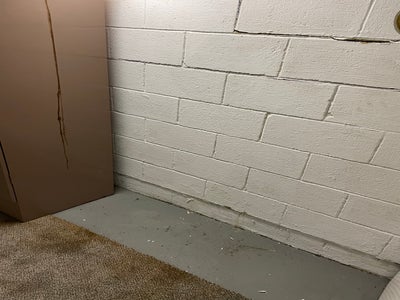 Do your basement walls exhibit inward tilting and indications of shifting near the top or bottom? This transformation may indicate wall shearing, a form of damage that jeopardizes your basement's structural integrity and invites water-related issues.
Fortunately, Ohio Basement Authority simplifies the process of addressing these concerns. For nearly 15 years, our expert team has repaired damage like this in homes throughout Central and Southern Ohio. Homeowners trust our expertise and basement repair solutions that guarantee long-term peace of mind.
After reading this page, you'll be prepared to take the next steps if your basement exhibits signs of wall shearing. 
What Is Basement Wall Shearing? 
Basement wall shearing occurs when walls shift or move horizontally, often due to external soil pressure. The phenomenon is mainly influenced by factors like soil weight, moisture levels, and the soil's expansive properties.
Although shearing doesn't immediately signify foundation failure, it demands swift attention to prevent further deterioration and moisture penetration. The severity and location of the shearing dictate its seriousness and guide the appropriate repair methods.
Our evaluation process thoroughly investigates all manifestations of shearing to recommend the most effective repairs. 
What Causes of Basement Wall Shearing? 
Several factors contribute to the development and progression of wall shearing. Our experts will clarify these factors during inspections, enabling homeowners to identify them more effectively.
Fluctuating Soil Volume 
The soil surrounding your basement changes in volume as moisture fluctuates. These fluctuations exert pressure on basement walls, expanding during wet spells and contracting during dry periods, leading to shearing.
Hydrostatic Pressure 
After heavy rainfall or snowmelt, subterranean water buildup exerts significant pressure against basement walls, creating ideal conditions for wall shearing. This is known as hydrostatic pressure.
Frost Heave 
When winter arrives and temperatures drop, freezing moisture in the soil results in an upward force called frost heave. This force can press on basement walls, exacerbating the potential for shearing. 
Can Basement Wall Shearing Be Fixed? 
Absolutely! Modern foundation repair techniques mean you don't need to overhaul your entire basement due to wall shearing. With professional help, you can reinforce affected areas and prevent further problems.
At Ohio Basement Authority, we use various reinforcement methods to combat wall shearing recurrence. Our guaranteed solutions ensure a stable, secure, and moisture-free basement for years to come.
How We Address Wall Shearing 
Our well-established process has gained the trust of numerous homeowners in the region, attributed to our commitment to detail and efficiency. Here's how we tackle shearing basement walls: 
Comprehensive Evaluation 
Our team inspects your home and identifies all instances of wall shearing, noting locations, severity, and patterns. A thorough assessment helps pinpoint primary factors like hydrostatic pressure, ground movement, frost heave, or expanding soils.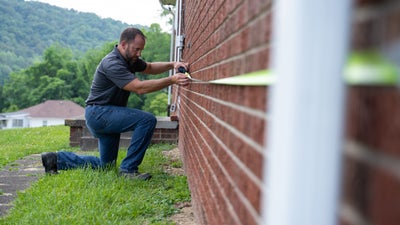 Implement Wall Reinforcement Systems 
We use suitable reinforcement measures to bolster areas prone to wall shearing, including: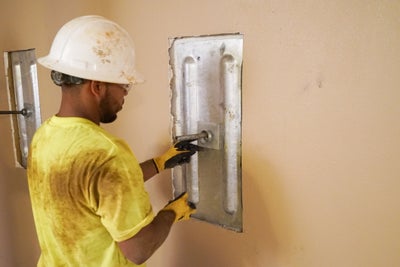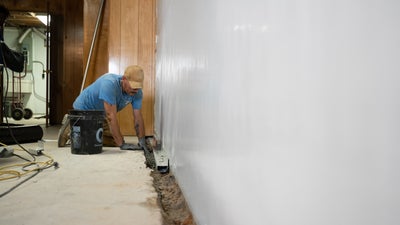 Why Immediate Action is Vital 
Delaying repairs can worsen wall shearing and increase repair costs over time. Swift intervention ensures:
Prevention of severe structural damage
Reduced risk of soil erosion, water infiltration, and potential mold growth
Prevention of floor settling or compromised structural support
Cost savings by addressing widespread damage and related water issues in advance
When you choose Ohio Basement Authority, you receive comprehensive, tailored solutions that address the root of the problem, strengthening your basement walls against future challenges.
Contact Ohio Basement Authority for Expert Solutions 
If you've observed the signs of wall shearing in your basement, take immediate action to prevent foundation instability and costly repairs. Ohio Basement Authority specializes in industry-leading techniques to rectify existing issues and fortify your basement.
Contact us today to schedule your free detailed basement inspection. Choose more than a quick fix; address foundation challenges with the experts at Ohio Basement Authority. 
FAQs
Signs of basement wall shearing may include:
If you notice these or other concerning symptoms, contact Ohio Basement Authority immediately for a free inspection.
Wall shearing compromises your basement's structural integrity and increases the risk of water infiltration, leading to potential damage and mold growth. Reach out to the pros at Ohio Basement Authority for a free inspection when you notice a problem. 
The duration of the repair process depends on factors such as the severity of the damage, the complexity of the project, and the repair methods used. Ohio Basement Authority aims to complete repairs as efficiently as possible while ensuring high-quality workmanship. 
Publish Date:
Last Modified Date:
Explore more problem signs