Collapsing Retaining Wall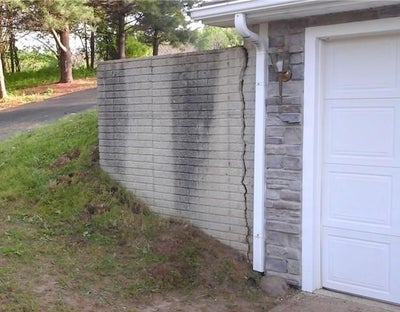 A retaining wall is more than just a visual boundary; it serves a critical role in maintaining the structural integrity of your property.
When a retaining wall shows signs of damage or collapse, it's not just an aesthetic issue but a safety concern that could significantly impact your home's value.
Ohio Basement Authority has helped homeowners throughout Central and Southern Ohio repair and protect their homes for nearly 15 years. We understand the importance of your home's safety and provide professional, long-lasting foundation repairs to stabilize your collapsing retaining walls.
After reading this page, you'll understand what's behind retaining wall damage and how to prevent further dangers with professional intervention.
What Is a Collapsing Retaining Wall?
A collapsing retaining wall is a structure that has lost its ability to hold back the soil and substrate it was designed to support.
This weakening can manifest in various ways, including:
Cracks
Leaning or bowing
Complete failure and collapse
These issues can lead to soil erosion or landslides. Adjacent foundation or basement walls can also suffer damage from an unstable retaining wall, thus impacting your foundation as a whole.
The retaining wall's purpose is to hold the lateral pressure of soil, making sloping areas usable for gardens, driveways, or terraces. When a retaining wall fails, it jeopardizes the level ground it supports and can be a significant safety hazard.
What Causes a Retaining Wall to Collapse?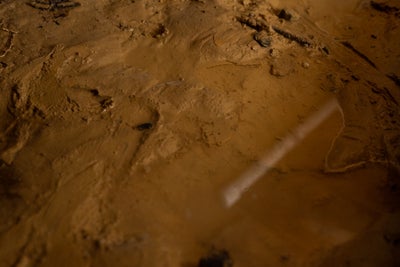 There are various causes for a collapsing retaining wall, including:
Poor Construction: Low-quality materials, inadequate design, and an insufficient foundation below the retaining wall can lead to damage and collapse.
Hydrostatic Pressure: The lateral pressure from expansive soil can exceed the wall's resistance over time.
Water Accumulation: Poor drainage can lead to water pooling behind the wall, adding to the pressure.
Soil Erosion: Eroding soil at the base of the wall impacts its stability.
Tree Roots: Invasive tree roots shift the surrounding soil and could puncture the wall.
Natural Forces: Earthquakes or other seismic activities can destabilize the wall.
Aging: Materials degrade over time, reducing their load-bearing capacity.
Identifying the root cause is vital to properly repairing and stabilizing your retaining wall long-term. Ohio Basement Authority provides free, thorough inspections to uncover these sources and recommend the best repair plan for your home.
Can You Fix a Collapsing Retaining Wall?
Yes. Retaining walls showing significant signs of leaning or cracking can be repaired and reinforced to prevent further damage. However, proper stabilization requires addressing the underlying issues that cause this weakening.
It goes beyond simply patching up the wall. Quick fixes like adding backfill soil or applying concrete or caulk to cracks are temporary solutions that won't offer a lasting remedy.
To properly stabilize and potentially straighten a retaining wall, you need integrated solutions that strengthen the wall foundation, drain excess moisture, and reinforce the wall structure. The most effective way to achieve this is through Ohio Basement Authority's permanent, warrantied retaining wall repair solutions.
How to Fix a Collapsing Retaining Wall
Ohio Basement Authority understands each home is unique and requires customized repair solutions. Here is the fundamental process we follow for addressing collapsing retaining walls:
Initial Inspection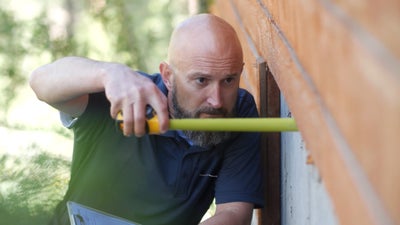 Our experts assess your home and the problematic retaining wall during a free inspection. Upon identifying the cause of the collapse, we recommend repairs tailored to your home's needs and budget.
Wall Reinforcement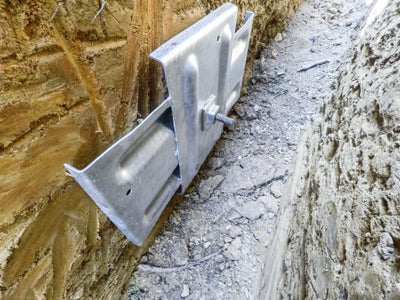 We use durable wall anchors to permanently stabilize the wall, stop further movement, and potentially improve the retaining wall's condition. We install this system by:
Digging several feet away from the retaining wall
Drilling a hole in the retaining wall
Advancing a connecting rod through the hole
Embedding an earth anchor plate in the excavated area
Attaching the rod and earth anchor plate
Placing a wall plate on the retaining wall
Connecting the wall plate and rod
Backfilling excavated dirt
Tightening the wall plate and rod for potential wall improvement
Drainage Improvement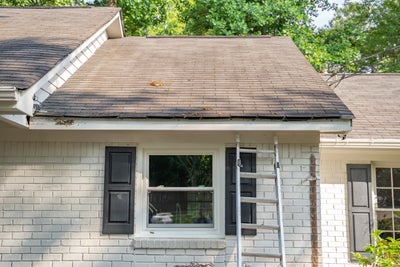 We recommend proper installation and maintenance of exterior drainage systems like gutters and downspouts. These channels are your first line of defense in keeping excess water away from your home and structures like retaining walls.
Ohio Basement Authority offers its proprietary line of repair solutions customized to meet your specific needs. Our products are designed to be superior to off-the-shelf solutions, providing more effective, long-lasting results.
Why Address a Collapsing Retaining Wall Now
It's important to fix a retaining wall as soon as signs of damage appear for several reasons:
Further deterioration can lead to catastrophic collapse and property damage.
Leaning walls create safety hazards and are unsightly.
Poor drainage from a damaged wall can cause flooding issues.
Surrounding landscaping, patios, or structures may become unstable.
Foundation and basement walls can suffer the same damage and instability.
Repairs only get more complicated and expensive over time.
A failing retaining wall can drastically reduce your property value.
Don't settle for temporary cosmetic repairs. Ohio Basement Authority's integrated retaining wall repair system keeps your landscape safe and functional. Our industry-leading lifetime warranty provides peace of mind that the job was executed correctly the first time.
Contact Ohio Basement Authority for Retaining Wall Stabilization Solutions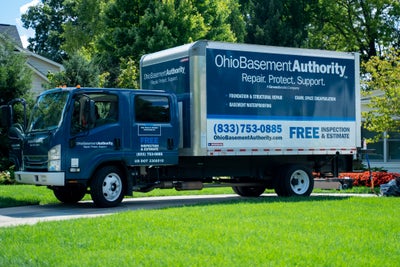 Call Ohio Basement Authority for a free inspection if you observe signs of leaning, cracking, or buckling in your concrete, block, or brick retaining walls. Our repair experts will evaluate the damage and customize a solution to permanently stabilize your wall.
With nearly 15 years of experience reinforcing failing retaining walls, you can trust our team to restore the structural integrity of your landscape. Your safety and peace of mind are our foremost concerns, which is why our work is backed by a long-term warranty. Contact us today for the proper repair of your retaining walls.
FAQs
Significant signs of retaining wall damage include leaning, bulging, cracking, and sinking, which indicate the wall is no longer adequately supported. Adjacent basement or foundation walls can exhibit the same issues.
Repair costs vary depending on the extent of the damage and the type and quantity of repair. Contact us for a free inspection, transparent pricing, and financing options.
Repair time varies, but most repairs can be completed within a week. During a free evaluation, your inspector will review project specifics, including the anticipated duration.
Publish Date:
Last Modified Date:
Explore more problem signs